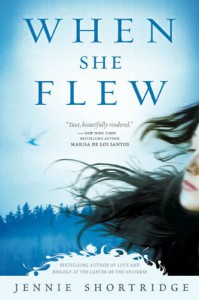 Actual events inspired Jennie Shortridge's fourth novel and provide the base for a moving and suspenseful story that explores family relationships, moral choices, and social responsibility.
Police officer Jess Villareal's dedication to her job is one of the factors in her strained relationship with her daughter Nina, and her relationship issues sometimes influence how she does her job. When her department forms a team to look for a young girl spotted in the woods - possibly a runaway, possibly kidnapped - Jess' maternal instincts drive her to ask for the assignment. They do find the girl, Lindy, along with her father, Ray; they've been living on their own in the woods for months, ever since Ray returned from military service in Iraq and took Lindy away from her meth-addicted mother, leaving Colorado for a promised job in Oregon. The job falls through due to Ray's physical and psychological injuries, leaving him and his daughter homeless and getting by on $400 per month from the VA.
Although Lindy seems to be well-cared-for, considering the circumstances, the police team has to consider their social and legal obligation, which requires getting the social-services system involved. Jess doesn't agree that separating father and daughter is the right thing to do, and while she states her agreement with the team decision, she feels compelled to act differently. She's well aware that following that compulsion could jeopardize her career, but doesn't have a sense of how it might affect the rest of her life as well.
The characters and circumstances of Lindy and Ray were inspired by a Vietnam vet and his young daughter found living in a forest park near Portland in 2004. Jennie Shortridge explores what their lives might have been like through chapters in Lindy's own first-person perspective, which alternate with third-person narration centered on Jess. I thought that the presentation of a complex situation from the two viewpoints was particularly effective, and the anxiety that situation provoked kept me eagerly reading, but it was the characters themselves that really made it work for me. I felt for Lindy - a strangely sheltered child in some ways, mature well beyond her years in others - but I really cared about Jess. She's a self-doubting, hard-working single parent who takes a lot to heart, and while I may have questioned her choices, I really wanted things to work out for her.
When She Flew was a fast read, but not a particularly light one; by way of its compelling characters, it touches on some important questions.